NEW AD: THE WALLS OF CORRUPTION ARE CLOSING IN AROUND MIKE DEWINE
09/29/21
Cleveland, OH – Renacci for Governor released a new ad highlighting the resignation of one of Mike DeWine's closest advisors amid continuing questions about their involvement in the FirstEnergy pay-for-play scandal. Dan McCarthy, who just left as legislative director of the governor's office, was a former FirstEnergy lobbyist and led a dark money group implicated in the HB6 bribery scheme that cost taxpayers millions of dollars.
Watch the video here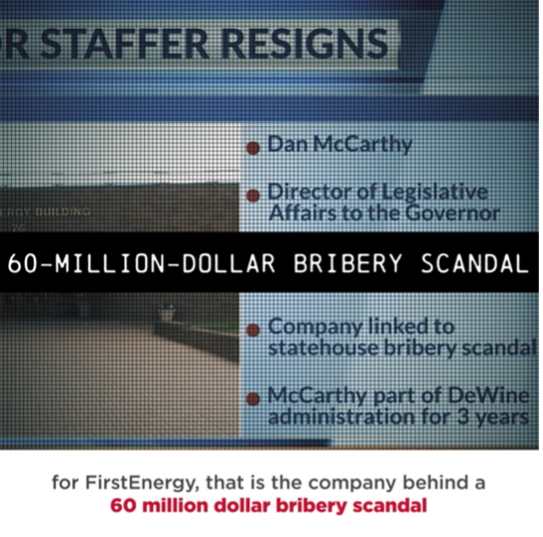 "The walls are closing in on Mike DeWine and his cronies associated with the FirstEnergy scandal, and the more we follow the dirty money trail, the more DeWine is implicated in this pay-for-play scheme," Renacci said. "Ohio has become the most corrupt state in the country yet we still don't know how far this scandal reaches because DeWine refuses to come clean about his involvement. It's time for DeWine to finally be truthful for once and answer to the people of Ohio."

Video Transcript:
REPORTER 1: Governor Mike DeWine's legislative director Dan McCarthy has resigned. He's been on that job for nearly three years now after being involved in the 2019 FirstEnergy bailout scandal.
REPORTER 2: He is the former FirstEnergy lobbyist. He was president of one of the dark money groups implicated in the alleged bribery scheme.
REPORTER 3: Critics have expressed concerns of McCarthy's history as a lobbyist for FirstEnergy. That is the company behind the $60 million bribery scandal at the Ohio statehouse.
REPORTER 2: He is linked to an ongoing federal bribery probe but has never been charged.
REPORTER 1: That's what's led some people to call it the largest bribery scheme in the state's history.
TEXT: Mike DeWine's pay-for-play corruption scandal is far from over.